As an animator, I love when a script is full of outlandish scenarios that will be fun to draw and when it's short enough for the animation to be achievable at a high quality. When you couple this with my love of jokes, you won't be surprised that I've found myself making animated sketch comedy.
Here I've mapped out some of the most useful approaches that I've found while animating my scripts.
Set the scene quickly
With short-form content, there's a lot to take in, in a small space of time. It's important to establish who, what, and where the sketch is about quickly so that the audience can concentrate on the jokes. Recognisable character types and scenarios are a huge benefit here and archetypes, cliches, and tropes, far from being undesirable, are essential to key the audience into the scene quickly. Only once the audience has figured out what's going on can they find it funny.
Focus on scripts with visual interest.
With animation, you can build a world from scratch and control it frame by frame. This takes time and effort, and considering the production of a sketch can be as simple as filming yourself on a phone's front-facing camera, there has to be a reason why you're animating it. When considering what sketch to animate, here's a helpful question to ask yourself:
'Is there something about this sketch that would benefit from being drawn?'
Drawing can easily and appealingly put together impossible and incongruous elements. This is one reason why my sketches are filled with robots, fairies, ring-wearing fish, and train station stunts. This is also why I have leaned into a stylised colour palette- because these are elements where their visual appeal plays to the strengths of  2D animation.
Make the faces legible.
Comedy will often come from a character having an unexpected reaction to a scenario, so the character's attitude will be important in telling the joke. Therefore, it's crucial that the audience can read the expression on the character's face. This means that while there can be a great appeal in very minimal character design or in designing small-headed characters, for sketch comedy, it's ideal to have the face at a size and level of detail that the expressions are easily legible to the audience.
Pare back the film-making
If the audience is thinking, then they're not laughing. This includes thinking about the artistry of your film-making. So every camera move and transition needs to be simplified to keep the audience's minds on the comedy. The director needs to ask, 'where is the joke?' and focus on putting it on screen in the clearest and most concise way possible. For a nuanced piece of dialogue, a locked-off camera or subtle move will work best, whereas jump-cuts are great as an extra jolt of surprise that can heighten a laugh. However, when we cut away, we'll need to give a moment for the audience to reorientate themselves. Due to the concision of time in sketch comedy, there's a surprising amount of restraint required in animating it.
Learn from comics.
When your goal is to get a gag across concisely using dialogue and drawn characters, a great source of inspiration is comic strips. Mapping out a joke into four beats is essential for creating a four-panel strip, but it can also add clarity to thinking about the pacing and timing of your animation. The character and background design in comics have their origins in being printed small and inexactly by newspapers. This has led to a trend of simplifying the designs into bold and graphic line work. This approach is incredibly useful as a large part of your animation's audience will be watching on their phones, which are a similar scale to newspaper strips. If you take your cues from comics, you'll automatically end up with a social-first design, telling jokes with clear story beats.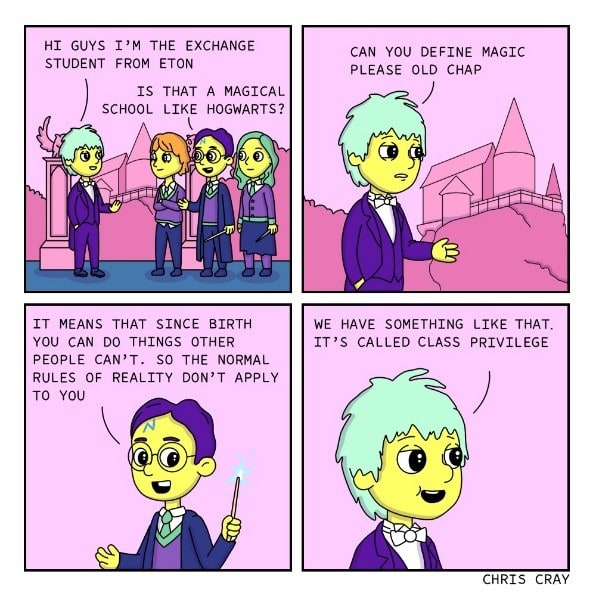 Repurpose Characters
Sketch comedy can have a lot of non-recurring characters. The effort involved in making them could put people off animating them at all. Rigged puppet animation is a valuable technique for this, as once a character has been created, it can be adapted to become multiple characters. I often view my rigged characters as comedy performers that I will add costumes, prosthetics, and makeup to so they can become new non-recurring characters in a sketch.
As I create more of these puppets, I feel like I'm making a 2D sketch troupe, which means I need not fear the volume of characters in the script. I am careful to design these characters in a way that I can easily slip into hand-drawn animation for more elaborate sequences or for more nuanced elements of their performance.
Put them together to make an episode.
Whether or not your sketches were conceived as part of a larger whole, why not put them together into one? Animators will know from making their showreel that there's a joy in sequencing work and in watching the meaning of the pieces subtly change as they're juxtaposed against each other. In sequencing your sketches, they become like modular design units that are put together to form a larger piece. You might find that you have built a more coherent world than you expected. You can call it a compilation, or by adding a title and end sequence as bumpers on either end of the sketches, you'll have made a short episode of animated sketch comedy.