Motion Designers Unite!
Roxy Vélez, Founder of Vexquisit Studio, joins us with her friend and colleague, Ronaldo Serrano to discuss Ronaldo's battle with cancer.
We share some of Ronaldo's favorite work, talk treatment options and mental health, and share the Go Fund Me page to help Ronaldo fight the good fight.
If you've already decided to donate, on behalf of Ronaldo and Roxy, thank you: here's the link.
Roxy, why don't you start by introducing Ronaldo and then tell us about yourself and how you met. 
I am Roxy Vélez, Motion Designer, Creative Director, and Founder of Vexquisit Studio. In the early days of Vexquisit, I made the common mistake of thinking I could be an animator while directing, producing, and running a business. In early 2018, I realised I needed an animator to help me.
Our illustrator, Nati Brondani, knew a fellow Brazilian, Ronaldo Serrano, and after seeing his portfolio, I knew he would be an excellent fit, so I thought, why not? Latin power! Let's do this! 
Very soon, I was so relieved to have Ronaldo on board. He won me over instantly, maybe because he was a skillful gif sharer and always raised the mood, especially through crises on projects.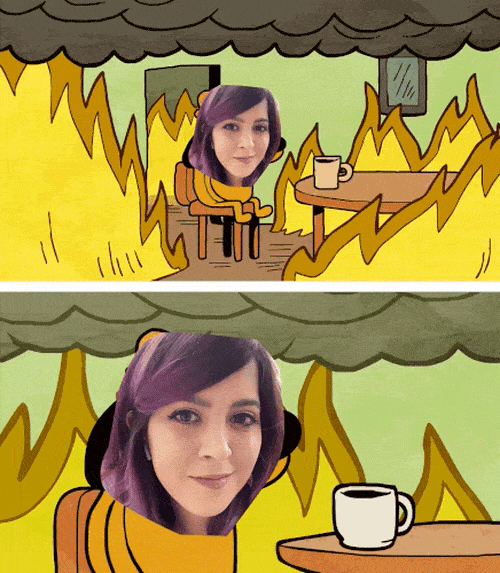 But he was also so down on earth and extremely talented, with an awesome work ethic. 
Until the end of 2021, Ronaldo lived a calm and happy life in Porto Alegre, Brazil, working successfully as a Motion Designer freelancer for clients around the world.
By the time he hit 36 years old, everything had changed.
Tell us about Ronaldo's health situation.
Things started going downhill for Ronaldo when he began experiencing intense headaches and fatigue in December 2021. Initial scans revealed a tumour in his brain. By January, he was undergoing surgery to have it removed. The operation was successful, and the tumour was sent for biopsy.
It took a few weeks, but in March 2022, he finally received a full diagnosis: Stage 4 Glioblastoma, the most aggressive type of brain cancer with a survival rate of only 4%. Ronaldo was obviously shattered by this news, but more hits were to follow. He was informed that without treatment, the deadly tumour could grow back within a year. 
What happened next?
Even though he was rocked by the diagnosis, there is still a ray of hope that keeps Ronaldo positive and ready to fight: The 4%. 
Currently, Ronaldo is in the public health system, and access to private or alternative treatment options is limited. Waiting time for appointments is painfully drawn out, so much so that it took until April for him to be seen, just to find out when he could do his radiotherapy and chemotherapy. With this treatment, the life expectancy can be extended by two to three years.
The wait wasn't just long; it was too long. New intense headaches came back, and a second brain tumour was found. On April 25th, Ronaldo was re-admitted to the hospital, where he will undergo his second brain surgery on May 9th. 
His health is monitored until his place in line arrives. However, we are hoping that some of his surgeons are able to operate on him sooner; this way, he can go back home to heal and directly move forward with palliative care.
Things change so quickly. As we were putting this article together, you had some more news.
Yes. Some days ago, Ronaldo got the opportunity to have a 3rd opinion, which has already given us more hope than the initial 4%. His new oncologist told him that they could be looking at a less aggressive malignant cancer. This was unexpected, yet, one aspect of this cancer fight is how many opinions you need.
Currently, we are getting all of his medical records translated to get extra opinions from abroad. The initial plan is that any international medical support will work with his doctor in Rio. Whatever cancer he will be fighting, it is confirmed that he needs to go through chemotherapy and radiotherapy.
Ronaldo, how are you coping at the moment? 
My life has been hell for the past four months, but I have to admit I'm truly blessed to see so many people having my back, close friends, and other awesome faces all over the world. 
The future scares the hell out of me right now, but with all this support, I'm still in the fight. Sorry if I'm not showing my face much over social media. I mean, I know I'm popping everywhere, with posts about me all around the web. But as far as my own account goes, I'm focused on gathering strength for my second head surgery coming in the next weeks. It's been a hell of a ride, but, really, I'm just feeling grateful. 
To maintain my mental health, I've spent lots of time with my mother and sister, trying to respect my time, reduce stress levels and not demand too much from myself. Oh, and playing video games.
I'm also still doing my therapy sessions (a little more often is needed in moments like these). Spending time with friends is great too. Even though everything has been so hard in the last months, I love having people come by to visit me and laugh.
Would you like to share some of your fondest memories of Motion Design?
Some years ago, I made a series about bitcoin, which I love.
This was the first work I pushed myself to make; an integration of C4D and After Effects, and I was proud of the result.
The Flan Machine was my first personal work using 3D. I always kept studying and learning, and I was finally able to push my work to the 3D render style I've been dreaming of for so many years :D
The inspiration behind it was from a few years ago when I went to an animation festival (Anymotion) in Sao Paulo. Back then, I was already studying 3D, and I saw a presentation by Estudio Ronda (I really like the 3D work they produce!), and I wanted so much to try something like they do. There were no special reasons for flans, but back then I thought, playing with its jelly attributes would be fun.
Roxy, tell us about the GoFundMe page?
It is known that economic stress on cancer fighters can be highly deteriorating for patients' mental health. So this campaign was meant to help Ronaldo give peace of mind in the upcoming months when he would not be working. He needs to focus simply on healing and being strong through his chemo and radiotherapy treatments.
Before I started writing his story for this campaign, I asked myself, what should the tone be? And at this time, Ronaldo was going through heavy existential depression. The campaign was vital in reducing the economic stress factor, but I was worried it would just reinforce the story he was painting in his head. I had depression along with him, all the news being fresh for us.
So I started writing; I poured out my heart. 
While this was happening, I was reading along with him about the 4% of survivors. I noticed they all had two things in common: the will to fight and a belief in themselves; this realisation changed everything. This ray of hope was key for setting up the campaign tone; knowing this is something he could be reading often, it should be framed with a successful finish line. It should be designed around how important it is for Ronaldo to live with hope and belief. It is all positive vibes, and many messages of love are 100% welcomed (and encouraged).
We are aware that a darker tone would perhaps push the campaign towards the economic goal faster. But I want to be 100% thoughtful of Ronaldo's mental health. Mental Health is always a key attribute, especially when fighting a life-threatening disease.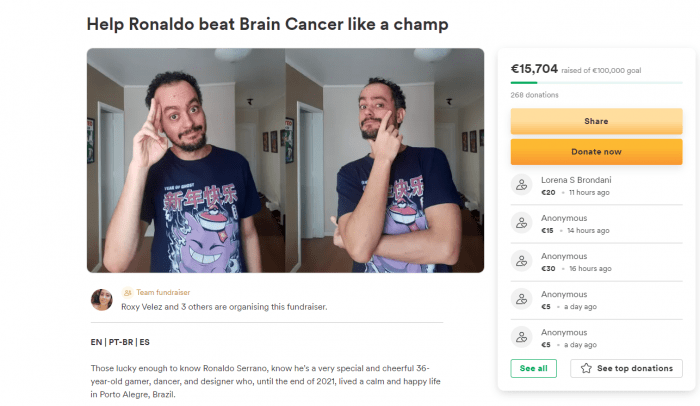 How has this impacted  your mental health? 
Ronaldo
This campaign was you doing the BIGGEST Genki-dama for me.
But Genki-dama is a super accurate description of what happened through the last months during the campaign. I think it helped my mental health to see so many people step in to help. It was not about the donations, it was about love.
Roxy
We are starting to see results. Ronaldo sits down every day or two to write thank-you notes for each donation on the platform; this feeds his gratefulness for having the amount of support he does – no matter the donation amount. After doing this, I've noticed that he is so empowered; it's such a positive activity. There will be dark days, but now, there are many names on the campaign wall that Ronaldo can go and look at and not feel alone in this fight. 
And we are calling for more names to join this army of hope for Ronaldo. 
Motion Designers unite!
---
If you'd like to learn more about Ronaldo's story or contribute to his well-being, you can follow his campaign link here.