Editor's note:
For the past five years, Versus have partnered with CBS Sports to produce animated segments for NFL today, dubbed "Quick Facts."
These one-minute narrative animations are both fun and timely.
However, being topical comes at a cost. The team has just five days to concept, create and release their work to the world.
"There is no such thing as a locked script in a league where 30-point leads disappear after halftime and last-second laterals fall into the wrong hands." Rob Meyers, Versus.
In an industry where everyone is desperate for more time, "if only I had another week, I could have created a masterpiece," Versus are charging headfirst into the abyss. And we love it!
As a nod to the infamous South Park documentary "six days to air," we asked Versus to keep a daily diary of their project in the lead-up to Christmas Eve, so we can experience the rising tension of a looming deadline and how the best in the business handle the pressure.
---
Rob Meyers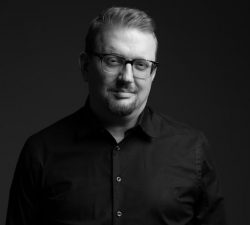 This week's theme is…The Day Before Christmas.
Saturday's broadcast takes place on Christmas Eve (daytime), so the segment borrows its narrative and cadence from the classic story 'Twas the night before Christmas.'
Scripted with a similar rhyming scheme, the piece captures the wide-eyed wonder of both the NFL playoff shuffle and holiday season all at once.
We have the brief, we have the team, and now we have just five days until we're live on air!
Justin and Stefani: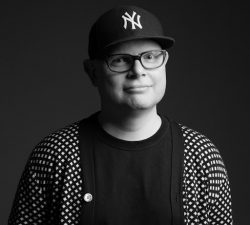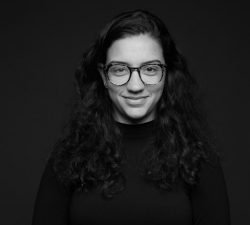 The CBS team, led by JP LoMonaco, Komal Bhukhanwala, and Daniel Ennis, is about as collaborative as any client can be, and communication has been the foundation of our relationship.
The schedule is aggressive, but thanks to the years we've spent together, our trust in each other has allowed us to flex our creative muscles and make decisions quickly and independently.
Using all the tools in the Versus Toolbox.
We collectively decided to make this piece using a variety of styles: 2D, 3D, mograph, illustration, collage, etc. We could then lean heavily into the style that makes the most sense for the story and creative while not being tied down to working within a single world or medium.
What could possibly go wrong?
We need to make sure that this mix of disciplines doesn't feel disjointed and random; it must still have a sense of flow, with all the parts working seamlessly together.
Given how close we are to the holidays, we have a team of ten people, all working remotely. In the last couple of years, we've become more adept at collaborating online, but with a project like this, it's just another hurdle to overcome.
---
Day 1

9:30 am:
After an insane weekend of football, we aren't surprised to receive an updated script from the CBS Sports Team.
We ARE surprised that the changes are so slight,  and we're excited to see that they are giving us the opportunity to call out the disaster of the Patriots game on screen now.
10 am:
With the latest script in hand, it's time for our aptly named 'Kick-off' with the team on Zoom. This is the fun part: pitching and collaborating on ideas, design approaches, and the overarching flow of the piece.
We also lay some ground rules amongst the team:
No saying, "If we had more time, we could do this…"
No shortcuts around creative or execution. We can and will be smart about production realities, but not at the sake of ideas or craft.
From this meeting, we created the master 'shot list' document that will serve as our bible for the next five days.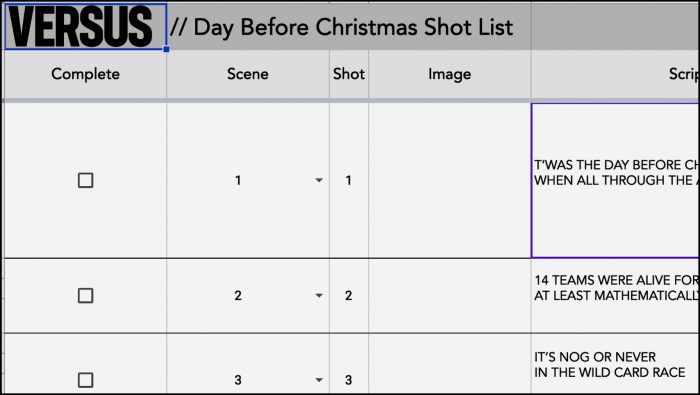 Because of the timeline, we are going all-in on full up design frames for each section to serve as our storyboard. Not ideal when it comes to revisions, but it's worked for us in the past.
Today's goal is fully designed and boarded out:
To complete 9 of the 18 frames needed for the piece.
11 am:
With the plan in hand, it's time for the team to get to work.
3 pm:
Only a few hours in, we regroup for a catch-up meeting. The team would love for us to leave them alone and stop pestering them, but it's a necessity for us to make sure we're all on the right track. Collectively we're reviewing some initial key frames, and thankfully, all is looking promising.
It's too early to call, but it's clear from our experience that the groundwork has been laid well. There are a few things we can push farther on, but we can already start to see the vision coming to life.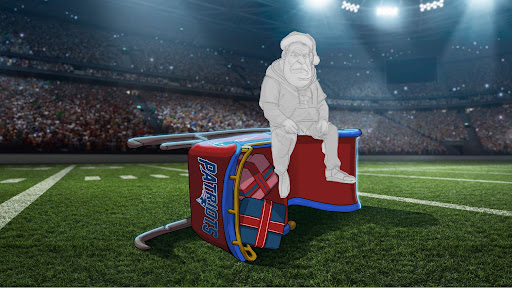 8 pm:
Most of the frames are in for the day, but a few of the artists are working late to add polish to the first set of images.
We're tracking just as planned, but we're holding off on sharing the boards with CBS until we have the full spot designed out tomorrow.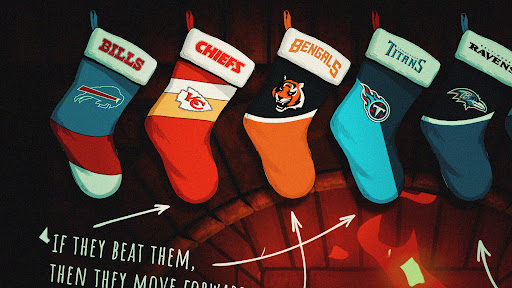 We'll be back tomorrow with only four days to air…